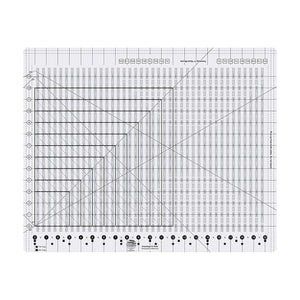 Reduce your rotary cutting time up to 75 percent with the Stripology XL.  This slotted ruler has cutting slits every 0.5 inch so each strip you cut is the exact same size EVERY time!

Markings are included to square up blocks, half-square triangles, and quarter-square triangles in whole and half inch increments up to 12.5 Inches.  Use the 45 and 60 degree angles to cut perfect triangles.
The ruler slides easily over the fabric until pressure is applied. Then it holds the fabric in place while cutting, eliminating slipping and miss-cuts!