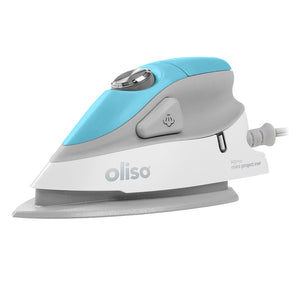 The power of a full-sized iron in an ergonomic compact and lightweight design.  The Oliso Project iron heats up in only 45 seconds, and its powerful steam burst is ready to remove the toughest wrinkle or press in the sharpest seams.  Compact for travel or use next to your sewing machine;.  8 foot, 180° pivot cord allows for both right and left-handed use while safely keeping the cord out of your way.
SOLEMATE – Practical high-temperature silicone stand, lets you leave your iron in the face-down position, efficient, always ready to go, saves fabrics or ironing board cover from scorching, doubles as easy, safe storage with built-in hanging hook, cord wraps around for storage.
DIAMOND CERAMIC SOLEPLATE w/ PRECISION TIP – Non-stick ceramic glides effortlessly over delicate fabrics, infused with natural minerals for that diamond sparkle, durability and easy clean-up, even when working with fusibles.  The detailer tip easily presses cuffs, collars, pockets, pleats and in between layers of fabric.
FABRIC SELECTOR – accurate temperature control for all fabrics, synthetics, silk/wool, and cotton, evenly distributes heat across the large flat soleplate for pressing whether dry or steam ironing.